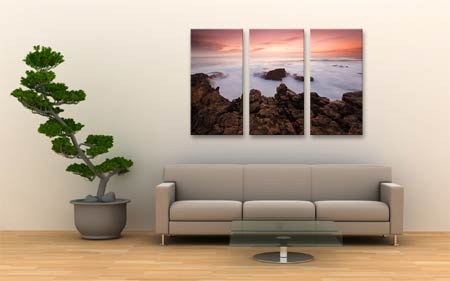 Fabric Prints
Decorating your office, reception area or even your home can be a challenge so why not consider fabric prints? Sometimes, there simply aren't enough unique options available when it comes to wall décor. What if you could turn any imaginable picture into a high-end, sophisticated fabric or canvas print? Signcraft Studios can do that. You will be wowed by the results.
What types of pictures are used for fabric prints?
Photographs – Turning a photograph into a print is a step up from printing and framing. You add instant flair and personalization to any room. Choose your own photos or consider having a professional take them for you.
Commissioned Artwork – Consider commissioning artwork from a local artist to give your space a unique look and support the local art scene at the same time. You are sure to get plenty of positive reception when you decorate in this manner.
Branding Images – Your company's logo, brand name and other elements can be utilized in a new, high-end way. There is no better way to make sure your name is never forgotten.
Signcraft Studio proudly serves Acton, Boston, Lowell, Westford, Littleton, Concord and other areas in and around Middlesex County, Massachusetts. Feel free to contact us at [email protected].